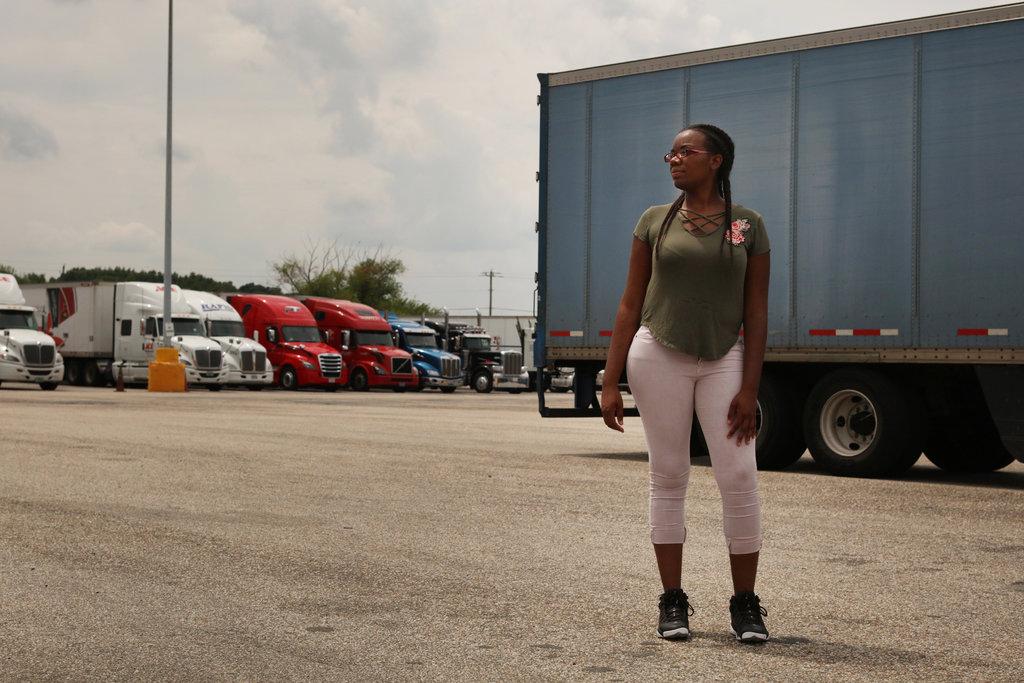 Kristina Jackson, a 22-year-old driver based in Raleigh, N.C., is constantly reminded that she's an outlier in an industry that is 94 percent male and two-thirds white. (Photo: Travis Dove for The New York Times)
WASHINGTON — America's booming economy has a problem: a shortage of truck drivers.
The industry — historically reliant on older, white male drivers — is facing a record shortage with an estimated 50,000 more drivers needed to meet demand, according to the American Trucking Associations. The lack of available drivers is rippling through the supply chain, causing a bottleneck of goods that is delaying deliveries and prompting some companies to increase prices.
The Trump administration and the industry are trying to alleviate the problem by loosening federal rules and enticing nontraditional drivers like women, teenagers and minorities to operate big rigs.
The Transportation Department has recently sidelined a number of safety regulations that trucking lobbyists said posed unnecessary burdens but that trucking unions supported, including requiring that rigs be outfitted with speed-limiting software and that drivers be screened for sleep apnea. The speed-limit measure, proposed by the Obama administration after a decade of lobbying from safety advocates, would have prohibited trucks from traveling faster than either 60, 65 or 68 miles per hour.
The White House is also backing a pilot program that allows younger drivers with military training to operate commercial vehicles across state lines. While the program is a trial, it represents a broader willingness to allow drivers under 21 to make interstate deliveries — something federal regulations currently prohibit.
And, in a bid to recruit more drivers, many trucking companies have added perks, including signing bonuses and increased pay.
The shortage has been percolating for some time, as younger generations expressed less interest in the industry and wages lagged. Driver churn is also a problem — at large fleets, turnover rose to an annualized rate of 95 percent last year, according to industry figures. The median wage is around $42,480 a year, according to the Bureau of Labor Statistics.
While autonomous trucks may someday negate the need for drivers, trucking executives say that day is still too far-off to solve today's problem.
As the global economy has strengthened, demand for trucks to move goods has outpaced the supply of drivers, resulting in freight carriers setting higher rates and companies raising prices on products, in some cases by as much as 20 percent.
Food companies in particular, like Campbell Soup, General Mills and Mondelez International, have cited higher freight costs as weighing on profits in recent months. "Like the broader industry, we're seeing sharp increases in input costs, including inflation in freight and commodities," General Mills said in its third-quarter earnings release in March.
Darren Hawkins, the chief executive of YRC Trucking, one of the nation's largest freight carriers, said the severity of the shortage means that successfully tapping underrepresented pools of candidates is crucial.
"There's an industry problem, and that is, we have to do a better job of attracting new people into the driving occupation, previous audiences we haven't reached," Mr. Hawkins said. "Right now the American Trucking Associations says we're 50,000 drivers short, and those numbers will continue to grow. So we've got to open up other pieces."
Trucking is already more onerous to enter than some of the industry's competitors, including retail, construction and fast food. In addition to weeks in trucking school, which can cost several thousand dollars, it often requires drivers to spend long, solitary stretches of time away from home.
Women and minorities make up just fractions of the overall trucking population: 94 percent of drivers are men, and two-thirds of all drivers are white, according to a 2017 report released by the American Trucking Associations.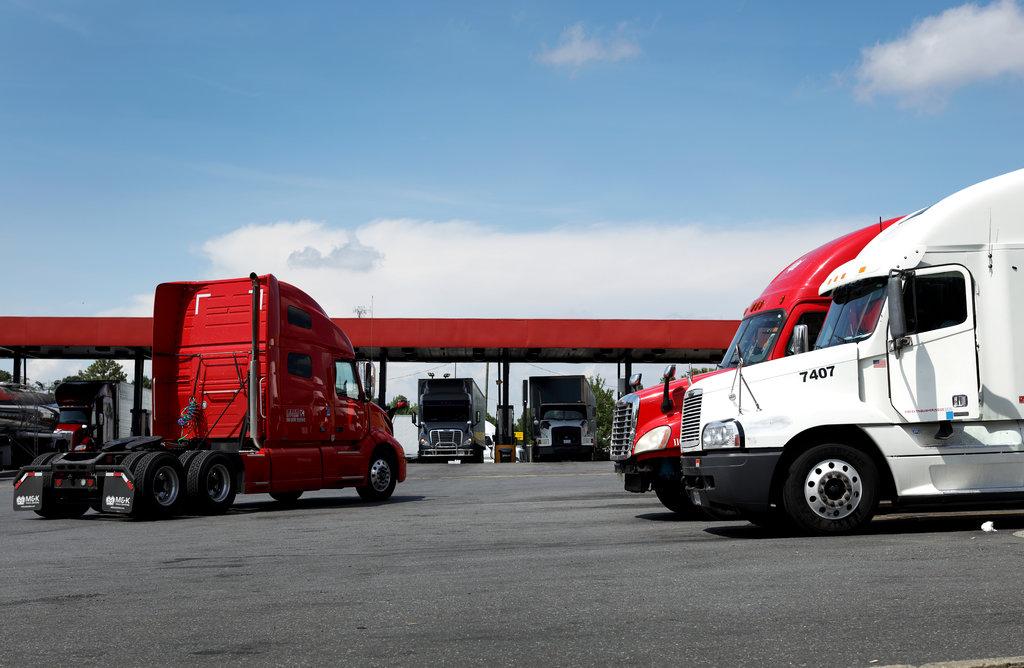 The demand for trucks to move goods has outpaced the supply of drivers, resulting in freight carriers setting higher rates and companies raising prices on products.
Facing record driver shortages, trucking companies "are making the adjustments because they have to," said Kevin Reid, the founder of the National Minority Trucking Association.
"The industry has not focused on recruiting and retaining the next generation," Mr. Reid said. "Trucking is an industry that needs to be rebranded. There was a cool factor to trucking in the 1970s and 1980s. We don't have that now, so the question is, how are we going to reach the next generation of truckers?"
Kristina Jackson, a 22-year-old African-American truck driver based in Raleigh, N.C., is exactly the type of person the trucking industry wants to attract. After graduating from college, she wanted a job that would allow her to travel and be financially independent. She never considered trucking until her boyfriend's father, a trucker himself, encouraged her to give it a try.
A year into driving, she is constantly reminded that she's an outlier in the industry.
"When people found out I was in trucking, they were shocked because of my gender and age," she said. "The first thing you think of is an old white male. People say to me, 'You don't look like a trucker.' I say, 'What does a trucker look like?'"
Ms. Jackson thinks that more young people could easily be persuaded to join the industry, adding that she has personally recruited 10 of her friends in their 20s. But she thinks recruiters so far have done a poor job of showcasing the young truckers in the industry.
"When people think of truckers, they don't see our faces," Ms. Jackson said of young drivers.
The measure backed by the Trump administration seeks to change that and targets high school graduates, a demographic long considered by trucking companies that has remained largely out of recruiters' reach.
"If you are graduating from high school and you are not going into the military, you are not going to college, for all practical purposes, you can't go into trucking because you have to be at least 21 to drive interstate freight," said Bob Costello, the chief economist of the American Trucking Associations. "You're not going to sit around and twiddle your thumbs."
The administration's age proposal is the most controversial of the initiatives devised to attract new drivers. Some states already allow those under 21 to drive trucks within state lines, and the industry has lobbied to lower the interstate driving age similarly. But safety advocates have voiced opposition, arguing that the "riskiest cohort of drivers" should not be empowered to drive across state lines.
The trucking industry is hopeful that the pilot program, if successful, will eventually prompt the Trump administration to reduce the driving age for all types of people, not just those with military training. Elaine Chao, the transportation secretary, has publicly supported the program, which seeks to recruit 200 drivers under the age of 21 serving in the National Guard. The department will collect data on those drivers, such as accidents and miles driven, and then compare it with the data of other new drivers between the ages of 21 and 24.
"The pilot program can benefit the public and military community in so many ways. It will benefit the public and the economy by providing well-trained, safe truck drivers," Ms. Chao said this month at an event promoting the program in Omaha, accompanied by Senator Deb Fischer, a Nebraska Republican who is chairwoman of the Surface Transportation Committee.
DeAndre Lewis, a 20-year-old college student in Austin, Tex., said he would have benefited from a program that allowed him to receive certification when he was 18. He is hopeful he can soon swap his summer jobs for driving a big rig, which would pay more.
Mr. Hawkins said that lowering the driving age was just "one tool in a very large toolbox," and that trucking companies would also have to reach out to women and minorities.
Ellen Voie, the president of the Women in Trucking Association, said the industry was beginning to realize it must do a better job of recruiting women.
One of the biggest marketing hurdles the industry has to overcome is tamping down the prevailing notion that the road is not an appropriate — or safe — place for women.
"There's still men out there who think women shouldn't be driving trucks. They're few and far between, but they're vocal," Ms. Voie said. "But the experience has changed a lot over the past five years because carriers are trying hard to make sure women have a good experience."
Author: Catie Edmondson with Jahd Khalil contributed reporting from Omaha.
Source: The New York Times